Mutianyu great wall layover tour from Beijing international airport or your hotel
Mutianyu is one of the most unique and beautiful sections of the Great Wall and it is receiving millions of tourists every year. If you have time for a layover in Beijing between your flights, you can't miss the opportunity get an close look at a lasting icon of Chinese imperial power.
Despite being one of the best-preserved and scenic sections of the Great Wall, Mutianyu is less crowded than other sections that near Beijing as limited access by public transportation,such as bus, train, so this section is more favored by overseas tourists.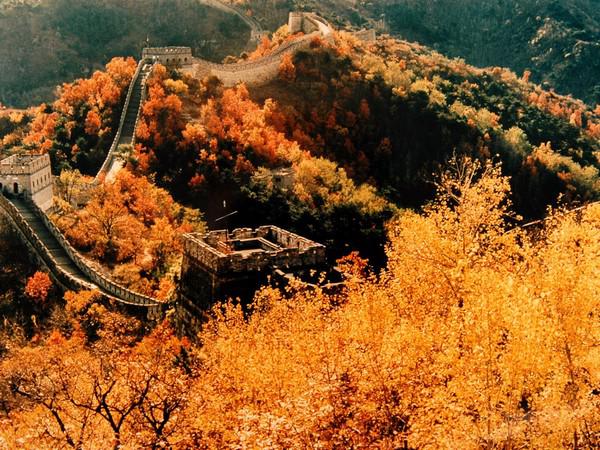 Your personal driver will meet you at Beijing's Capital International Airport, then drive you directly to the forested mountain in huairou county where Mutianyu is located. Once you arrive at Mutianyu, our driver will accopany you to the ticket booth and show you how to get to the wall, you can set out for a hike that takes you along a 3.7-mile stretch of stone fortifications and 600-year-old watchtowers that look out over the pass.
Relate tours
Throughout the hike, you're surrounded by a beautiful landscape of dense woodland and pastures whose vivid colors shift with the seasons. Spend as much as time you like to learn about the history that date back to the 6th century. Get plenty of time to admire the grand combination of ancient engineering and natural beauty before your driver returns you to the airport to catch your next flight.
Estimated driving time between airport, city, and Mutianyu great wall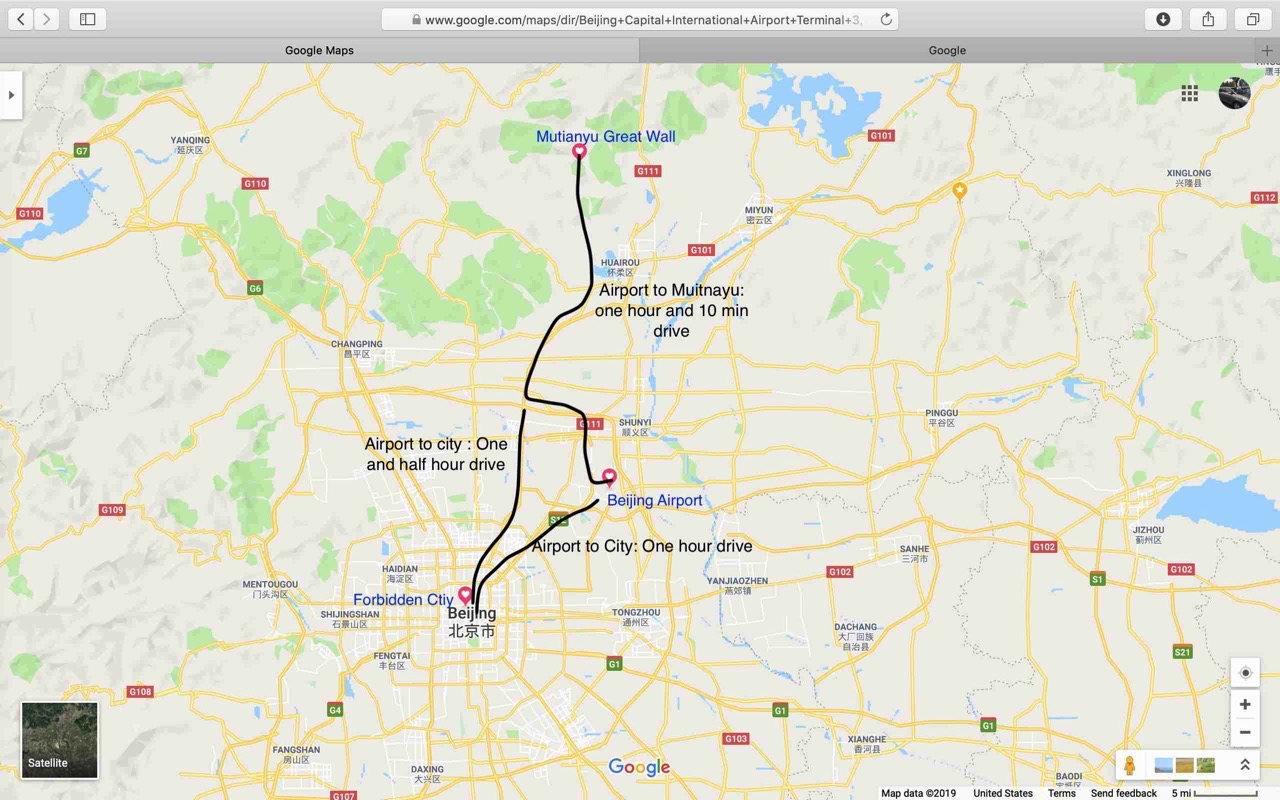 Mutianyu great wall

The Mutianyu section of the great wall lies about 70 kilometers (43.4 miles) northeast of Beijing in Huairou County. This section measures 2250 meters in length with 22 watchtowers. It was a strategic pass built in the Ming Dynasty.
Two unique features of this section are the battlements on both sides and the branch walls . Other parts of the Great Wall have battlements only on the outer side and parapets on the inner side , but here both the outer and inner parapets are crenellated with merlons , so that shots could be fired at the enemy on both sides.
Relate tours
| | |
| --- | --- |
| The mountain ridge branches out from either inside or outside the main Wall , and another piece of wall was built on this mountain, known as : Branch Wall, which was on the mountain ridge but connected with the main wall ,watch towers built on it .The Branch Wall really played an important role in the past . | |
The Mutianyu area has dense woods and rich pastures , and has a beautiful landscape all the year round. In spring , the mountain sides are decorated with peach and plum blossoms ; in Summer , people feel cool here with the luxuriant green trees and grass; in autumn, the golden , red autumn colors can be seen everywhere .and in winter , snow presents another attractive scene over the Great Wall.
Entrance ticket : RMB 45
RMB 120 for the double-way cable car / tobagen
Shuttle Bus: RMB15
Combination ticket : RMB 180

Opening Hours : 7:00 am to 6:00 pm
Recommended Time for a Visit: 3 hours
Itinerary for mutianyu great wall layover tour
Itinerary for mutianyu great wall layover tour
The tour is 8 hours for default, the route is:
Aiport-mutianyu-airport
Or: Airport - mutianyu - hotel
Or: Hotel - mutianyu - airport
1. You will be welcomed at Capital Airport arrival gate or your hotel by your driver holding a sign with your name.You luggage can be loaded into the vehicle if needed.
2. The driver will take you to the Great Wall.
3. When arriving, your driver will assist you to purchase entrance tickets and show you the way to take shuttle bus to go up to the wall.
4. Your driver will wait you at the parking and drive you back to airport or your hotel after you finished your hiking.
Price for Mutianyu Great Wall layover tour
Booking form Mutianyu Great Wall layover tour
Leave us your comments: